Our Minister, the Reverend Karen Armina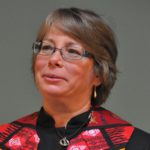 Rev. Karen was called to be the minister of the James Reeb UU Congregation in May 2014 and we ordained her in May 2015. She comes to ministry out of a background in plant ecology, and understands the interconnected web of all existence as both a physical and a theological reality. This understanding leads her to be deeply passionate about how we treat each other and our Earth home.
She writes:
I believe in the saving message of Unitarian Universalism – that each of us is loved, that we create the sacred out of our own presence and intention, that wisdom is accessible to all people in so many ways, and that we are never alone. This message has opened my world. It has given me the ability to see what my own best self might be, and it has given me the resources I need to try be that best self as I live out my life in relationship with family, friends, strangers, and our Earth home. It has given me a reason for hope, and it has required of me that I spend my life in its service.
Rev. Karen is on sabbatical leave until May 15. 2020. While she is away, please consult the sabbatical brochure that is available in our foyer for the people to contact with your pastoral concerns and other questions.
Sabbatical is a time of study, reflection, rest, and renewal – all ingredients for effective ministry. Just as importantly, the congregation will benefit as Rev. Karen returns refreshed, filled with new ideas and with rekindled energy. Further, it offers the staff and congregation the opportunity to step up to fill some of Rev. Karen's responsibilities, affirming that a healthy congregation thrives even in the minister's absence. Karen looks forward to catching up with you when she returns!
In Karen's reflection about this time she'll be away, she said:
What I wish for you while I'm away is to continue to thrive. Keep welcoming new people of all ages, all genders, all abilities, all backgrounds. Keep serving our community, radiating your love and compassion and activism out. Keep worshiping, singing, praying, celebrating your accomplishments and joys, and accompanying each other through your sorrows and fears. Keep dreaming about what we will do next. You have both a challenge and an opportunity here. The challenge is to provide stability, and you've got that! The opportunity is to widen your horizons, pay attention to new thoughts and ideas, and to deepen your ministry. It's going to be amazing.
Use the form here to contact Rev. Karen: