Justice & Community Update
---
Support Just Dane Youth with Backpacks and Calculators
Youth in Just Dane's summer Just Bakery program are in need of backpacks and calculators. Kids in the Mentoring Connections will also receive these supplies at their summer picnic.  Please consider donating by ordering from their Amazon wish list here and have the order delivered to:
JustDane
2115 S. Park St.
Madison, WI 53713
---
Open Discussion: "Building Our Racial Awareness" – Fourth Sundays of each month at 4:00-6:00 pm
This conversation is hosted by the 8th Principle Project Team, and will be on Zoom. Participants will be invited to bring news items related to racism in our local community to facilitate conversation and to sharpen our awareness of the inequities surrounding us here at home.
If you have questions or comments on these offerings or the 8th Principle Project, please contact Team members Randy Coloni, Erik Gunn, Eva Wingren, and Jeanette Clawson by using this form. Or talk with us during coffee hour!
---
Undaunted! – Resources for Taking Action on Climate Change
Click here to go to the website for the April 24th Service about taking action on climate change. You'll find a list of contacts for JRRUC members involved with Safe Skies, 350 Wisconsin, Sierra Club, and Building Unity. You'll also find links to the Sierra Club and links for contacting government officials, as well as upcoming events.
---
Immigration and Refugee Rights Report – May 2023
How do we support immigrant and refugee rights? Our members have been involved in providing housing, meals, rides to medical and legal appointments and to English classes, social events and case management support services to three Nicaraguan asylum seekers and three Cuban asylum seekers. We also invited Atty. Aissa Olivarez from the Community Immigration Law Center as a guest speaker to speak to our congregation about her work with asylum seekers on Sunday, October 16, 2022 (listen here), followed by Q&A. Click here for the full report of our activities over the last six months.
JRUUC is a member of the Dane Sanctuary Coalition, and this report has also been shared with the Wisconsin Network for Peace and Justice.
---
Share the Plate Nominations Needed!
Each week this congregation gives half of all offerings collected in our plate to local organizations whose work furthers our mission.
Do you know of an organization you'd like us to give to? Please nominate them!
---
"Reconciliation, Restorative Action, and Right Relationship" Worship and Workshop with Rev. Kerri Parker – To Be Rescheduled
The Rev. Kerri Parker is the Executive Director of the Wisconsin Council of Churches, and has worked with congregations seeking to restore relationship with the Indigenous people of the land we occupy. Kerri was unable to lead our worship and workshop as scheduled for April 30th, but we hope to reschedule with her. The multiplatform workshop will help us articulate our land acknowledgement and figure out what reparations might look like for JRUUC. Go here to read our current land acknowledgement, and go here for the service description webpage.
---
MOSES Updates
MOSES General Meeting Notes, May 7, 2023
This meeting was a hybrid meeting, both on Zoom and in person.

Our learning exercise was about Adultification: the tendency to over-estimate the age of young persons
of color, and treating them like adults, even when they are children. This has contributed to arrests and
convictions of black youth, and in a few cases, the actual shooting of the young person. It is prevalent
among police, and to prove the reality of this problem, we heard statistics – and- we were each given
the chance to guess the age of teenagers of varying ethnicities from pictures.
Upcoming Event:
May 18. FREE, with dinner!
"Let Justice roll down like a river: Who will defend you?" With Kelli Thompson, Wi State public defender.
5:30 Lake Edge Lutheran Church.
Registration required. Register at: tinyurl.com/justicerollevent
MOSES stands for Madison Organizing in Strength, Equity and Solidarity. JRUUC is a Member Organization of MOSES, which advocates for criminal justice reform.
Visit the MOSES website here for more information
---
Volunteers Needed For Outreach Farmer's Market Table
From Nick Schweitzer of Free Congregation of Sauk City: Volunteers are needed to staff a Unitarian / Humanist / Freethinker / Atheist / Agnostic / Skeptic table at the Capitol Square Farmers' Market on Saturday mornings from roughly 9 to roughly noon from April to November (in good weather only). Those who participated last year found it to be a very positive experience. The main task is having usually-brief discussions with well-wishers (and occasional critics) during the morning, and handing out brochures for Prairie, Reeb, FUS, and other organizations. Please contact Nick Schweitzer (contact information in JRUUC's weekly email) if you would be willing to help out any time during the season.
---
Board Listening Sessions
Thanks from your Board and Minister to all who took the time to share their thoughts and insights at our listening session on Sunday! We gained many good insights about what's working well in our congregation and where we might need to make changes. A summary of key points is available in your April weekly email.
---
JRUUC Works for Justice! Sign-up for our Justice email list
Interested in joining the JRUUC justice email group so you receive announcements about meetings and other justice discussions? Please click here to send a request to join the Google Group. You will get the agenda and Zoom link sent to you every month.
Our next meeting is May 16th. The JRUUC Justice Leadership Team meets monthly via zoom on the 3rd or 4th Tuesday at 7pm. All are welcome to attend the meetings! Check your weekly newsletter or this space for each month's exact date.
Click here to find out about justice work at JRUUC and how you can get involved.
---
In Our Wider Communities…
---
Past Events, Actions, and News
MOSES – New Member Orientation via Zoom – 5/25/23 6:30pm
MOSES is an interfaith coalition and an affiliate of the state-wide organization, WISDOM. MOSES works on ending mass incarceration and reform of the criminal legal system. JRUUC is a participating congregation of MOSES.
Anyone who is new to MOSES or other WISDOM affiliate or joined us for Madison Action Day, is interested in a Task Force or issue area, or just needs a refresher is cordially invited.,
To participate, please register here: May 25 6:30 pm WISDOM New Member Orientation registration
---
Resources for Taking Action on Climate Change – From "Undaunted!" Service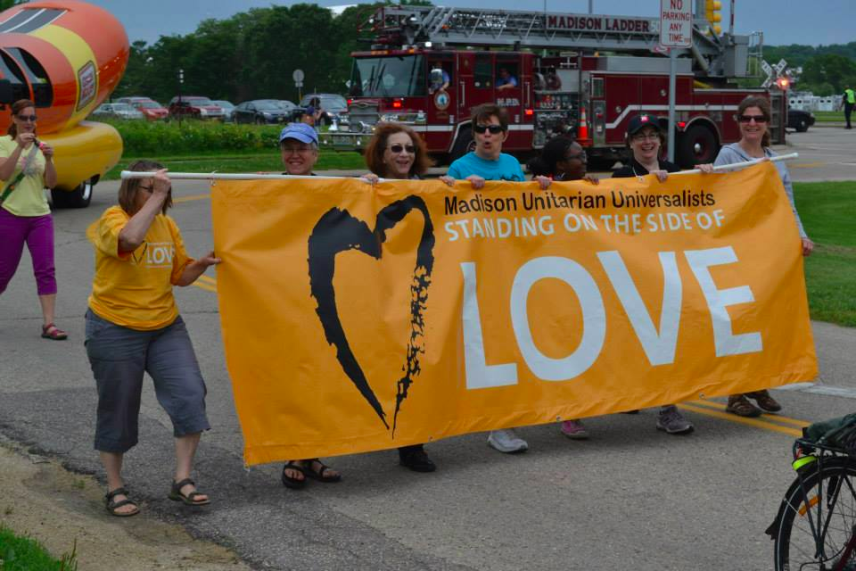 ---
Madison Action Day – Thursday, April 27, 2023
Masonic Temple 9:00 am – 3:00 pm
Registration is $25 and includes a free lunch, entertainment by the Raging Grannies and a chance to join in group visits to legislators. Every live body helps make an impact! Register through this webpage: "Wisdom Madison Action Day" There is a register link on this page. (Wisdom is the umbrella under which Moses and its sister city groups function)
Register here ($25)
MOSES stands for Madison Organizing in Strength, Equity and Solidarity. JRUUC is a Member Organization of MOSES, which advocates for criminal justice reform.
April 2 Meeting Notes
Racial Equity Team report
Disproportionately long prison sentences and the myth of the "superpredator"
Most of these long sentences were handed out in the 1990's and sometimes were given to teenagers!
Most of these sentences were not for the crime of murder by the accused. Sentences have been for 180 years and upwards, sometimes much over two hundred years! And they included no chance for parole.
The "superpredator" myth is false myth that young men of the ghetto cannot be rehabilitated and will always remain dangerous.
The US Supreme court has since ruled that such sentences given to teens are unconstitutional, but the ruling was not retroactive. Only one out of 26 such men convicted was white. Wisconsin prisons still hold some of these men unjustly sentenced.
MOSES asks that these cases be re-examined. The Governor has the power to reduce the sentences or rectify the injustices.
Racial Justice for all Children report
Families of incarcerated adults frequently face eviction, often through financial hardship and inability to pay rent.
Wisconsin currently maintains a 20-year record of such evictions in CCAP, making it nearly impossible for those families to get housing again.
MOSES opposes maintaining these records for long periods.
---
Congregational Conversations on Adopting the 8th Principle – Sunday, April 23
In person at 11:30, Virtual at 4:00
Share your thoughts with us here.
In August 2022 the 8th Principle Project Team was created and charged with bringing the work of the 8th Principle Project to JRUUC. Our overall goal is to educate Reebers on the 8th Principle, in order to bring a formal vote to adopt the 8th Principle at a congregational meeting no later than May 2024. You can read more about the 8th Principle, including its language and history, here.
We invite you to gather this Sunday to discuss this effort and plan next steps in moving towards a vote. Your questions and thoughts on what is needed are key to our progress, and we sincerely hope you can find the time to participate.
Please join us in the sanctuary at 11:30, or join "Building Our Racial Awareness" on Zoom at 4:00.
---
April 22 – Earth Day Celebration – Games, Potluck, Cake, Sustainable Saturday Night
Bring your friends and family for an Earth Day celebration of the end of 10 years of Sustainable Saturday Nights combined with a potluck and JRUUC games night. Community potluck at 6:00 pm, SSN celebration at 6:45, and games and cake at 7:15. All ages welcome. Bring a potluck dish and some games to share.
MOSES March 5 Meeting Notes
---
Rally for Our Rights! Sunday, April 2 at 1:00 – 2:30 pm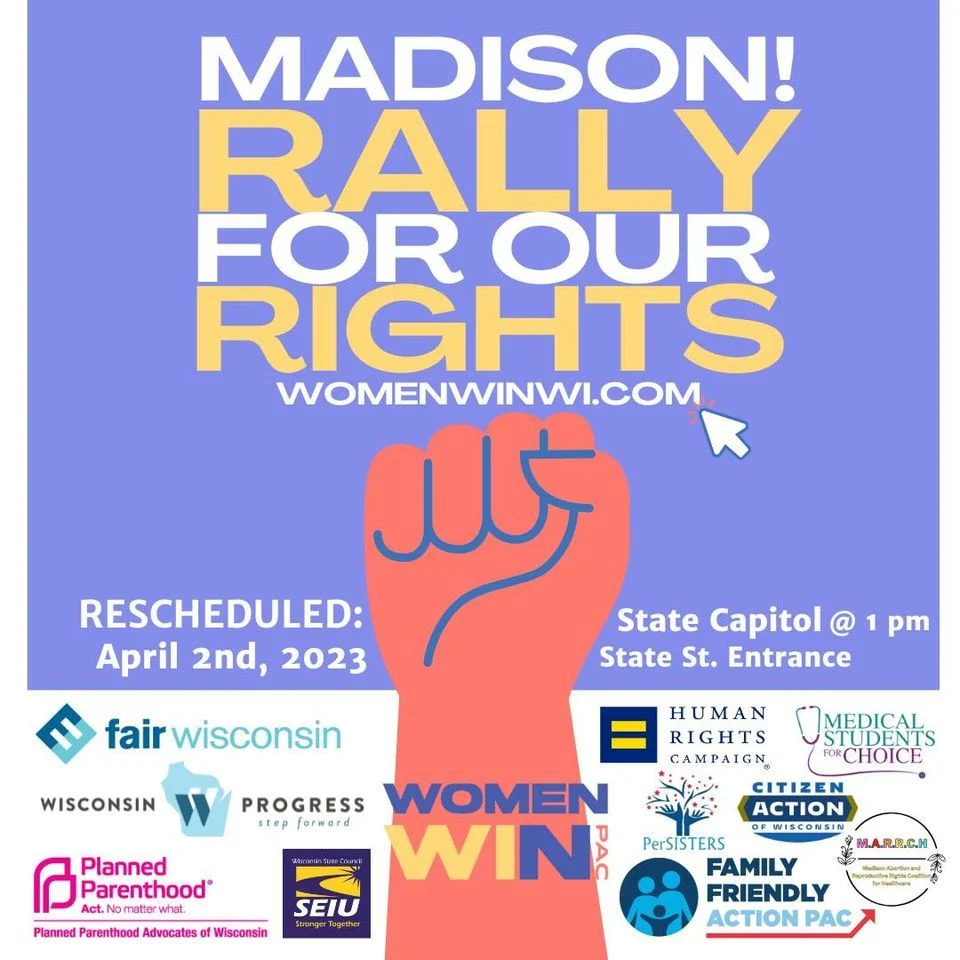 Join members of First Unitarian Society to rally for our rights ahead of the 2023 Wisconsin Supreme Court election! Come hear about what's at stake this election and how you can make an impact. The UU group will meet at East Main and South Webster- look for the big yellow "Madison UUs Side With Love" banner.
If you'd like to carpool, meet at 11:45 at First Unitarian Society to organize the cars. We should probably leave by 12:15 for the Capitol.
---
Safe Skies Clean Waters Event: March 24-27
From Reeb Members Tom Boswell & Kelly Kearns: Safe Skies Clean Waters invites everyone to an important event this weekend, March 24 to March 27. Midwest Catholic Workers will be hosting a Faith & Resistance Gathering that will include speakers, socializing, music, a film, good food, and nonviolence training. The weekend will culminate on Monday morning (March 27) with Nonviolent Direct Action to oppose the planned F-35 fighter jet basing in Madison.
Speakers will include long-time peace activist and World Beyond War president Kathy Kelly; Ground the F-35 Program Coordinator & National Co-Director of CODEPINK Danaka Katovich; and BrianTerrell of the Strangers & Guests Catholic Worker Community and Nevada Desert Experience.
If you would like to participate in the nonviolent direct action on Monday, you should attend the nonviolent training on Saturday afternoon and the direct action training on Sunday afternoon.
The basecamp for all of the activities is the Madison Christian Community campus at 7118 Old Sauk Road on the northwest side of Madison. Various churches in the community will be providing meals.
For further details and to register to attend, follow this link: https://www.safeskiescleanwaterwi.org/save-the-date-march-24-27-catholic-worker-faith-resistance-gathering-no-f-35s/
We look forward to working with you on this important effort.
---
Healthcare is a Human Right Campaign!

Sign our petition to demand that the State Joint Finance Committee expand Medicaid and keep Wisconsin citizens covered! WI PPC Healthcare is a Human RIght Petition
Get to know your Dane County PPC this Saturday March 11th 1-3 pm at the Catholic Multicultural Center (1862 Beld Street, Madison). We will be gathering for campaign updates, sign making, solidarity singing in preparation for our Day of Action at the Capitol on March 22nd. Contact Megan Barry with questions. (Learn more HERE )
Want to know more, get involved or share your story? All are welcome. Contact Megan Barry
---
Click here for more past events
---