Religious Education Update
---
From Mandy Nachampassack-Maloney, Director of Religious Education
---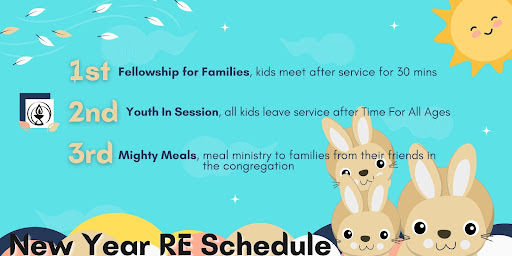 10/5/22 –
This week is "Youth In Session" – Young people will be in service until after the Time For All Ages. Then, Jocie and Elliott will escort them into a learning space to focus on the month's theme with activites and discussion. There will be no busy hands table.
---
Director of Religious Education
Interim Religious Education Coordinator
---
9/28/22 – A letter from Mandy about upcoming changes:
Personally, I'd like to take a moment to speak directly to the congregation, whether I've gotten the privilege of working closely with you or not. I've spent three years at Reeb, and those years have been quite a doozy. After all, seven months after I was hired the world shut down with a once in a hundred year pandemic. We moved everything: worship; RE; even Caring Tree activities; online. We had to learn how to be together without being together, and that was hard.
But we learned, and grew, and I'm proud to say that we accomplished much during that difficult time. We held an OWL class in person, in a tent outdoors, when nearly no other churches had reinstated this program yet. We held monthly in-person gatherings including an egg-hunt, a Halloween Trunk or Treat, and visited local cultural staples like the Chazen Museum where we could talk about social justice and Madison's history of welcoming (or not) marginalized people. We did these things while masked and keeping our distance.
Three years has been a long time for my family. The six month old I had when I was hired is now learning her letters and begging us to let her join her sisters in Tae Kwon Do. My second oldest has gone from Pre-K to 2nd grade and has grown into herself in what I think is an inspiring journey of awareness and confidence. My oldest, who is frequently with me at church, has begun to ask the big questions and has found many answers listening to worship from the Busy Hands table.
However, a new opportunity has fallen into my lap, and I'm excited to see how it will feed my creativity and challenge me. Near the end of October, I will leave Reeb and begin working full time for Sun Prairie Neighbor Magazine. I'll get to flex my writing skills and have my own bylines.
I'll forever be grateful for the opportunity Reeb gave me when I was new to the area and searching for something that was mine. It has been my pleasure to get to know you these three years, and I genuinely wish the best for you and Reeb as a whole as I transition out of my role as D.R.E. and into my position as magazine editor.
---
New Schedule for Families, Children & Youth
Thank you for attending the Families Meeting after Water Communion. It was a deeply helpful and productive session. When we put our heads together, we came up with something for this new church year that will both provide structure and room to grow. Starting in October, the new schedule for RE will look like this:
1st Sunday of the month- Fellowship for Families
During this week, young people will be encouraged to come to church, sit at the Busy Hands table if they choose, and then meet afterward for 30 minutes in two age groups- elementary and youth. Youth will be with Rev. Karen and the younger ones will go with Mandy. During this time, parents are encouraged to help themselves to coffee and some adult conversation.
2nd Sunday of the month- Youth in Session
During this week, young people will be in service until after the Time For All Ages. Then, Jocie and Elliott will escort them into a learning space to focus on the month's theme with activites and discussion. There will be no busy hands table.
3rd Sunday of the month- Mighty Meals
This is a new monthly event that we haven't tried before. We're excited to invite the congregation to directly minister to families! For those who are able, we ask that you bring a dish/snack to pass among families with children, so that parents get a break after service when they don't need to make their family's meal. During service, the Busy Hands table will be active. After service, children are invited into the multipurpose room to eat together and play games.
There will not be a mighty meal in October, since the 3rd Sunday of the month coincides with the Reeb campout. Our first trial of this ministry will take place on the third Sunday in November.
4th (and 5th) Sunday of the month- Regularly Scheduled Service
Staff will take this time to plan for the next month.
---
RE Corner is Open for Kids (and Adults) During the Service
An activity table and floor area (open to adults and children alike) will be on the left-hand side of the sanctuary filled with fun, quiet activities to keep hands active while ears are listening. Starting in October, the table will be staffed every Sunday but the 2nd Sunday.
---
Volunteers are needed for the RE corner
The sign-up link is here. Any help you can provide would be greatly appreciated! There are idea sheets in the folder with the sign-up sheet, but you are more than welcome to bring your own activity if you have any ideas.
---
More about Religious Education for Children and Youth
---