Music and Choir
Meet Our New Music Director – Jennifer Hedstrom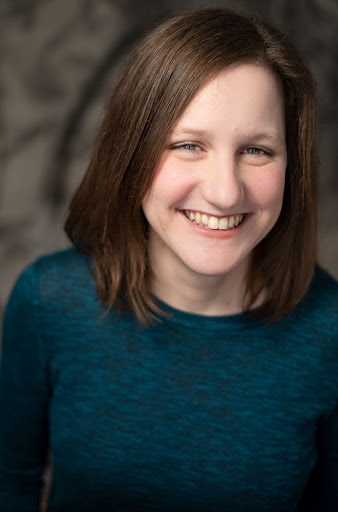 Jennifer Hedstrom (she/they) grew up in the Chicago suburbs and has called Madison her home since 2010. Jennifer holds a Bachelor's in Piano Performance from Illinois State University and a Master's in Collaborative Piano from UW-Madison. Jennifer loves leading a multifaceted musical life and splits her time between composing, performing, teaching, and music directing.
Jennifer believes music is a powerful tool for expression, healing, and connection. She also believes music is for everyone, which is the reason she is drawn to congregational singing. She is looking forward to using her musical gifts to lift up the voices and spirits of everyone at James Reeb. And she is excited to get to know the members of the James Reeb choir.
Jennifer lives on the east side of Madison with their partner and two cats. Beyond music, they love reading, walking, dancing, crafting, and spending time with close friends. Jennifer's spiritual teachers include water, prairies, songbirds, Pema Chödrön, Rumi, and Beyoncé.
---

Sacred Breath Choir
"We gather together to share the sacred breath, to build the beloved community…. Breath by breath, word by word, note by note. We gather together to sing the beloved community into being. This is our work, this is our calling, this is our joy." – Ian Riddell, Former Music Director, JRUUC
Any congregant or community member interested in participating is welcome to participate in music ministry at JRUUC. Please check your weekly email for the latest information about choir rehearsal and special music from the choir during Sunday services.
The first rehearsal of Sacred Breath Choir for the 2023-24 church year is on Thursday August 31 from 7-8:30pm. Sacred Breath welcomes folks of all voice types and musical backgrounds (including people with no experience whatsoever!) We meet weekly on Thursdays from 7-8:30pm and sing at 1-2 services a month. At rehearsals, choir members warm-up their voices and bodies, learn pieces for Sunday services, sing for the joy of it, and connect with fellow Reebers. Singing is nourishment for the mind, body, and spirit. Nourish yourself and your community by joining Sacred Breath Choir!
The Sacred Breath Choir is officially on break for the summer until August 31st.
Please send an email to music@jruuc.org with any questions or thoughts you have about music ministry at JRUUC.

---
Click here for music news from our weekly email
---
Interested in singing along with your own hymnal? You can borrow one from the congregation!
---