What's Happening in Unitarian Universalism
---
---
Final Proposed Revision to Article II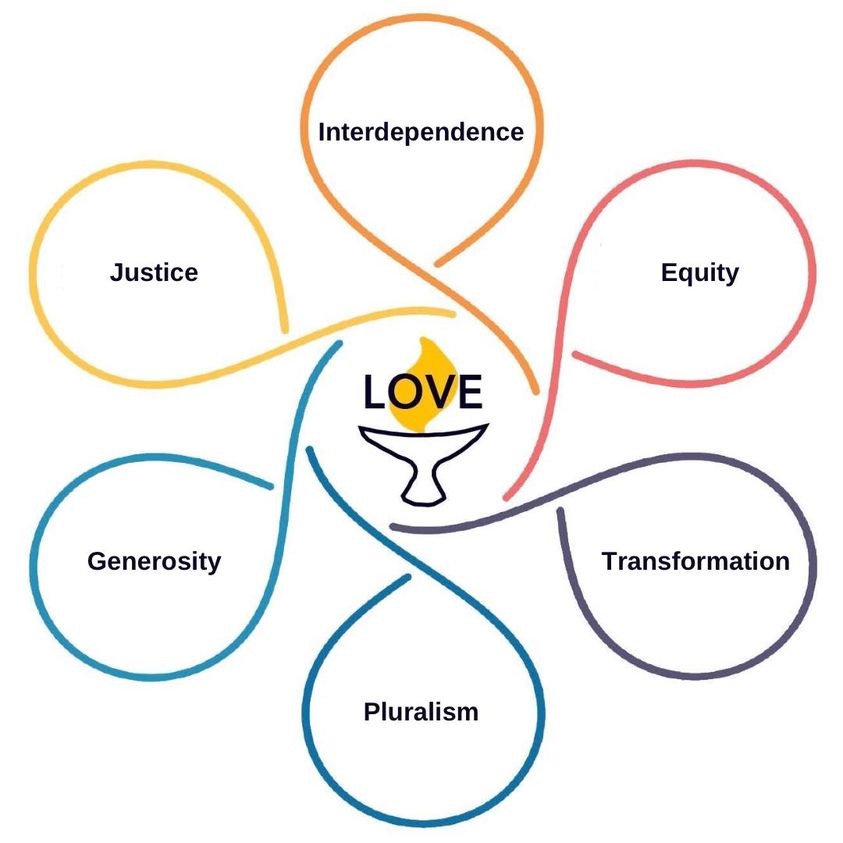 The final version of the proposed revision to Article II of the UUA Bylaws is now available! The UUA Board will officially receive the revision at the next board meeting, November 13, 2023, but it is available to you now. The deadline for submitting an amendment is 11:59 p.m. ET on February 1, 2024.
All qualified amendments will be considered at 2024 General Assembly.
Read the Proposed Article II here
[Posted 11/8/23]
---
General Assembly 2024 Theme Announcement: Love Unites, Stories Ignite
The 63rd General Assembly will take place virtually Thursday, June 20 through Sunday, June 23, 2024.
Participants will receive:
Memorable, high-impact content for faith formation, with an easy and accessible experience
Sense of belonging in the online community, with flexible approaches for a variety of needs
Renewed connection to the wider faith of Unitarian Universalism.
Inspiration and support to carry forward to your local congregations and beyond [11/16/23]
---
2023 General Assembly News
6/28/23 – From Rev. Karen:
Our UUA General Assembly of Congregations has happened, and there was much worship, learning, discussion, and deciding! Here are some highlights:
There was deep discussion on the proposed revisions to Article II of our UUA Bylaws, with passionate and emotional testimony from many delegates. In the end, we approved five amendments to the draft created by the Study Commission, and then adopted the amended draft for discussion in our congregations. Those discussions will inform next year's delegates, who will vote on whether to adopt the draft as our new Article II. Below is the language that was approved.
We discussed a proposed Business Resolution: Complete Divestment from the Fossil Fuel Industry and Subsequent Reparations, which was drafted and presented by young adult organizers. There were many passionate views expressed about how the UUA has divested from fossil fuels companies but not from companies who support them, and about the harm our investments is doing to the environment and its protectors, but the resolution was not adopted because many delegates hold deep reservations about having a structure to support divestment that can also be a good choice for our financial security. The Rev. Sofia Betancourt promised our young adults and the rest of us that we would continue to work together to create an investment portfolio that is aligned with our values.
We affirmed three Actions of Immediate Witness (statements about significant actions, events, or developments in the world that necessitate immediate engagement and action among UU member congregations and groups):
We bade a fond farewell to our amazing outgoing President, the Rev. Susan Frederick-Gray, and elected and installed our new President, the Rev. Dr. Sofia Betancourt. There's a great article about Rev. Sofia here, which shares, among other things, "As her tenure begins, Betancourt has named her top three priorities as communal care, collaborative leadership and facing the unknown together."
---
Article II of the UUA Bylaws
The delegates at the 2023 UUA General Assembly voted to pass this draft proposal of Article II of our Bylaws. Congregations and other UU communities are now tasked with discussing them, and the delegates at the 2024 GA will decide whether to adopt this language as our new Article II.
Article II Purposes and Covenant (with passed amendments, 6/24/23)
Section C-2.1. Purposes.
The Unitarian Universalist Association will devote its resources to and use its organizational powers for religious, educational, and humanitarian purposes. Its primary purposes are to assist congregations in their vital ministries, support and train leaders both lay and professional, to foster lifelong faith formation and spiritual development, to heal historic injustices, to support and encourage the creation of new Unitarian Universalist communities, and to advance our Unitarian Universalist values in the world.
The purpose of the Unitarian Universalist Association is to actively engage its members in the transformation of the world through liberating Love.
Section C-2.2. Values and Covenant.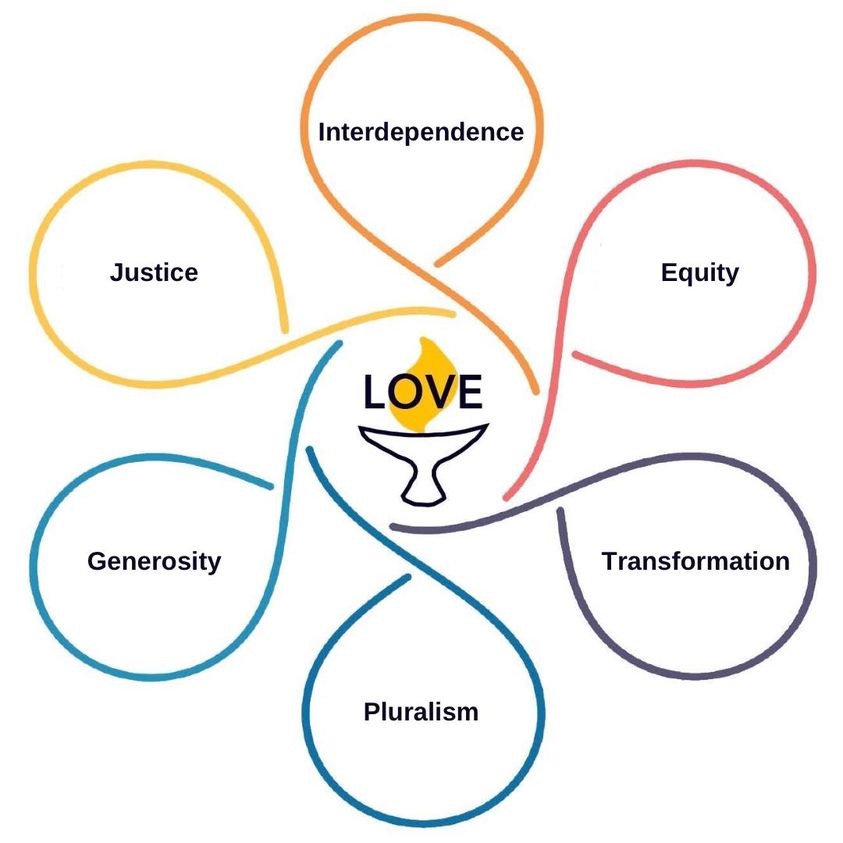 Other elections happened: members to the Board of Review, the Board of Trustees, the Commission on Appraisal, the Commission on Social Witness, and the Nominating Committee, as well as a new Financial Advisor. You can see all the results here.
As Unitarian Universalists, we covenant, congregation-to-congregation and through our association, to support and assist one another in our ministries. We draw from our heritages of freedom, reason, hope, and courage, building on the foundation of love.
Love is the power that holds us together and is at the center of our shared values. We are accountable to one another for doing the work of living our shared values through the spiritual discipline of Love.
Inseparable from one another, these shared values are:
Interdependence. We honor the interdependent web of all existence of which we are a part. With humility and reverence, we covenant to protect Earth and all beings from exploitation, creating and nurturing sustainable relationships of repair, mutuality, and justice.
Pluralism. We celebrate that we are all sacred beings diverse in culture, experience, and theology. We covenant to learn from one another in our free and responsible search for truth and meaning. We embrace our differences and commonalities with Love, curiosity, and respect.
Justice. We work to be diverse multicultural Beloved Communities where all thrive. We covenant to dismantle racism and all forms of systemic oppression. We support the use of inclusive democratic processes to make decisions within our congregations and society at large.
Transformation. We adapt to the changing world. We covenant to collectively transform and grow spiritually and ethically. Openness to change is fundamental to our Unitarian and Universalist heritages, never complete and never perfect.
Generosity. We cultivate a spirit of gratitude and hope. We covenant to freely and compassionately share our faith, presence, and resources. Our generosity connects us to one another in relationships of interdependence and mutuality.
Equity. We declare that every person has the right to flourish with inherent dignity and worthiness. We covenant to use our time, wisdom, attention, and money to build and sustain fully accessible and inclusive communities.
Section C-2.3. Inspirations.
As Unitarian Universalists, we proclaim that direct experiences of transcending mystery and wonder are a primary source of inspiration. These experiences open our hearts, renew our spirits, and transform our lives. We draw upon, and are inspired by, sacred, secular, and scientific understandings that help us make meaning and live into our values. We respect the histories, contexts, and cultures in which these understandings were created and are currently practiced. These sources ground us and sustain us in ordinary, difficult, and joyous times. Grateful for the experiences that move us, aware of the religious ancestries we inherit, and enlivened by the diversity which enriches our faith, we are called to ever deepen and expand our wisdom.
Section C-2.4. Inclusion.
Systems of power, privilege, and oppression have traditionally created barriers for persons and groups with particular identities, ages, abilities, and histories. We pledge to replace such barriers with ever-widening circles of solidarity and mutual respect. We strive to be an association of congregations that truly welcome all persons who share our values. We commit to being an association of congregations that empowers and enhances everyone's participation, especially those with historically marginalized identities.
Section C-2.5. Freedom of belief.
Congregational freedom and the individual's right of conscience are central to our Unitarian Universalist heritage. Congregations may establish statements of purpose, covenants, and bonds of union so long as they do not require that members adhere to a particular creed."
Note: the above is draft language, amending Article II of the Unitarian Universalist Association Bylaws. Delegates voted at 2023 GA on whether or not to proceed with discussing changing Article II to reflect this language–if delegates voted to proceed, there will be a year of further discussion before a vote on whether or not to amend Article II with some version of this language in June 2024.
---
The Report to the UUA Board of Trustees from the Article II Study Commission (PDF) summarizes the revision process and contains the Study Commission's recommended revisions to Article II.
The final version of Article II, as amended by the Board of Trustees and/or the 2023 GA, will take a 2/3rd majority vote at the 2024 GA to be adopted as the new Article II of the UUA bylaws. If the vote fails, a similar proposal cannot be considered for two years.
---
Proposed new 8th principle of Unitarian Universalism:
We, the member congregations of the Unitarian Universalist Association, covenant to affirm and promote: journeying toward spiritual wholeness by working to build a diverse multicultural Beloved Community by our actions that accountably dismantle racism and other oppressions in ourselves and our institutions.
See more about the 8th Principle here.
See Rev. Karen's comments about JRUUC's involvement here – 9/21/22 "Minister's Musings"
See the Seven Principles here.
Approved by JRUUC at the May 2023 Annual Congregational Meeting.
---
Climate justice, reproductive rights, honoring treaties, resisting racism and other oppressions, all involve public policy, which involves voting. You may not be into politics, but it's surely all up in your face this year as usual, especially in Wisconsin.
WUUSAN (Wisconsin Unitarian Universalist Action Network) invites every Wisconsin UU to engage voters within and beyond our own communities, in collaboration with community partners. Early voting by mail and in person is an option in Wisconsin which can make voting more accessible to many occasional or first-time voters.
Regardless of your time constraints, mobility, or tech skills, you are valuable and needed to help reach every potential voter. Check us out.
---
Side with Love is a public advocacy campaign that seeks to harness love's power to stop oppression. It is sponsored by the Unitarian Universalist Association and all are welcome to join. Subscribe to get updates and learn more here.
---