What's Happening in Unitarian Universalism
---
UUA Voting – President and Article II
5/10/23 Voting for UUA President opens June 1.  This is the final stage of a process that began in the spring of 2022.  The Rev. Dr. Sofia Betancourt has been affirmed as the sole candidate for UUA President after no additional candidates emerged from the nomination by petition period.  For more information on the election process, and to view recordings of Presidential Candidate Forums, click here.  Delegates will also cast votes at General Assembly on the proposal for a revised Article II, which reflects feedback from thousands of Unitarian Universalists. (See below for more about changes and this process.)
---
New Purposes and Principles Drafted!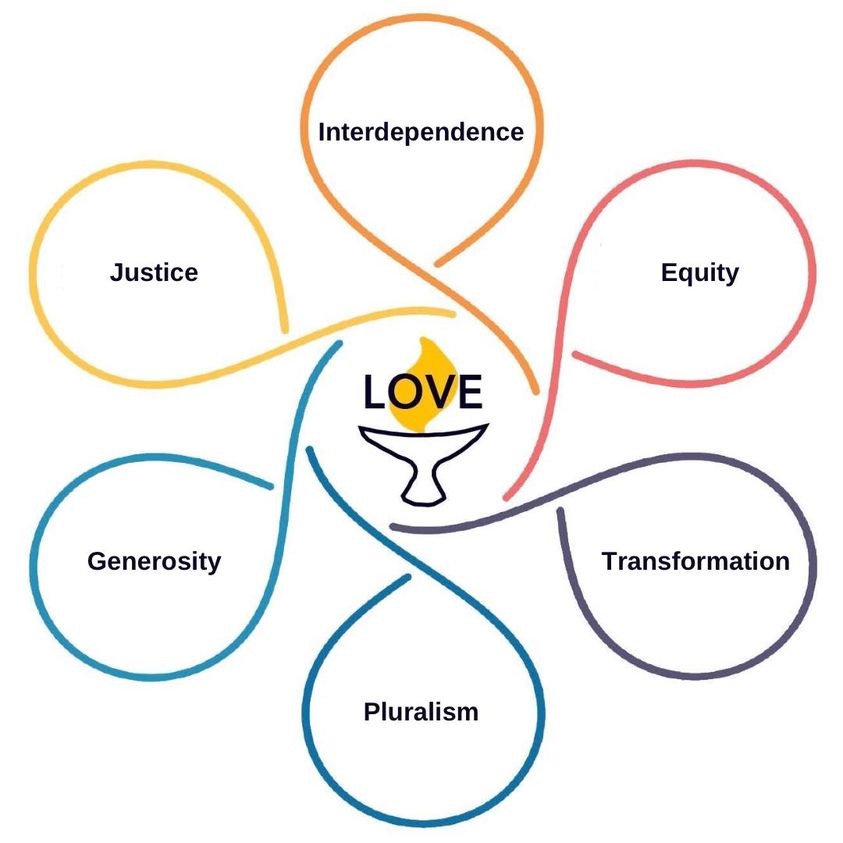 The Article II Study Commission has completed its two year study, and created a new draft of our Purposes and Principles! The Report to the UUA Board of Trustees from the Article II Study Commission (PDF) summarizes the revision process and contains the Study Commission's recommended revisions to Article II. Read here to see what happens next!
What's next?
Article II Forums will be held, so people can learn more and talk about the proposal. Congregations are encouraged to have conversations to gather input from their members to
inform their General Assembly (GA) delegates. There will be opportunities for delegates to recommend amendments to the proposal including at a mini-assembly at the 2023 GA. The Board will also be able to recommend amendments.
Amendments to the proposal from delegates and the Board of Trustees will be prioritized and placed on the 2023 GA agenda for consideration. The final version of Article II, as amended by the Board of Trustees and/or the 2023 GA, must receive a simple majority vote to move forward for a final vote at the 2024 GA. It will take a 2/3rd majority vote at the 2024 GA to be adopted as the new Article II of the UUA bylaws. If either vote fails, a similar proposal cannot be considered for two years.
---
General Assembly 2023 is in Pittsburgh!
General Assembly is the annual gathering of Unitarian Universalists, where we conduct business of the Association, explore the theological underpinnings of our faith, and lean fully into our mission and principles. Please join us Wednesday, June 21 through Sunday, June 25, 2023 in Pittsburgh, Pennsylvania and/or online for this 5-day immersive experience where we participate in inspirational worship services and informative workshops, reconvene with friends and colleagues, and explore our bustling exhibit hall. GA is an unforgettable experience for the thousands of UUs who attend. Meet us online or in Pittsburgh and you'll leave with renewed energy and innovative ideas to share with your congregation and community-at-large!
Registration, housing reservations, and GA choir registration are open!
Early bird registration ($250 virtual, $400 in person) ends February 28. There are reduced rates for Emerging Adults (age 18-24), UUA Aspirant & Candidate Ministers, Retired Ministers & Spouses, and Surviving Spouses of Ministers. Volunteers are offered full-time registration for General Assembly: virtual registration for offsite volunteers and in-person registration for onsite volunteers. There's other financial support available. Registration can be paid in installments. And first-time attendees can use a promo code to reduce your adult full-time in-person registration by $100 (one hundred spots are available)! Follow these links for general information, volunteer opportunities, other financial support, registration, and housing reservations.
This is a great year to go, especially for first-timers! There will be exciting work done on the process of revising Article II of our Bylaws, worship is always wonderful, and it's an amazing experience to be surrounded by thousands of UUs. Rev. Karen is happy to talk with you about the GA experience, and about what it's like to serve as a congregational delegate, if you're thinking about attending or just curious.
Inclusion: Black History & Transformative Healing
General Assembly continues to be a time for us to gather, in body and spirit, to honor our history, celebrate who we are, and forge our future together. The General Assembly and Conference Services Team leads the initiative to ensure that diversity, equity, inclusion, and belonging (DEIB) are woven throughout, from planning to fruition.
We will highlight different tentacles of Diversity, Equity, Inclusion, and Belonging in preparation for our upcoming General Assembly in Pittsburgh, Pennsylvania, June 2023.
February is Black History Month when we take time to celebrate the achievements of Black Americans and honor the significant role and impact they have made on all facets of life and society throughout history. As we celebrate, we are also reminded of enslavement, racism, and discrimination Black Americans have had, and continue to have, to overcome. In this video, we will magnify historical trauma and introduce transformative healing. Transformative healing is at the heart of racial healing and racial healing is all about doing the work. Therefore, during the month of February, Black Americans both honor the impact of our greatness and challenge negative narratives in pursuit of transformational healing.
---
New Nominee for President of UUA – Dr. Sofía Betancourt
12/7/22 – The UUA Board is delighted to announce that the Presidential Search Committee has nominated the Rev. Dr. Sofía Betancourt as a candidate for President of the Unitarian Universalist Association (UUA).
The Rev. Dr. Sofía Betancourt currently serves as Resident Scholar and Special Advisor on Justice and Equity at the Unitarian Universalist Service Committee (UUSC). She previously served as interim Associate Dean for Academic Affairs and Associate Professor of Womanist Theology and Ethics at Drew University Theological School in 2021-22. From 2016-2021, she was on the core faculty of Starr King School for the Ministry, and served as its Acting President for a term. She was the UUA's Director of Racial and Ethnic Concerns from 2005-2009. In 2017, she was appointed as one of the three-part team of UUA Interim Co-Presidents. She has been a member of the UUA Appointments Committee since 2016, and previously was a member of the UUA Nominating Committee.
Rev. Dr. Betancourt's ministry centers on work that is empowering and counter-oppressive. Her academic work focuses on the environmental ethics of liberation through a womanist and Latina feminist frame. She previously served as the Senior Minister at the First UU Church of Stockton, CA, as Consulting Minister of the UU Fellowship of Storrs, CT, and as Interim Minister at the UU Church of Fresno, CA.
She holds a Ph.D. in religious ethics and African American Studies from Yale University, graduate degrees from Yale University in Religious Ethics and African American Studies, and an undergraduate degree from Cornell University with a concentration in ethnobotany. She is an ordained UU minister, with a Master of Divinity from Starr King School for the Ministry. Her book, Ecowomanism at the Panamá Canal: Black Women, Labor, and Environmental Ethics is available from Lexington Books (published February, 2022).
Read the full UUA Board announcement here
Read about the nomination process here
Read about the election process here
---
Proposed new 8th principle of Unitarian Universalism:
We, the member congregations of the Unitarian Universalist Association, covenant to affirm and promote: journeying toward spiritual wholeness by working to build a diverse multicultural Beloved Community by our actions that accountably dismantle racism and other oppressions in ourselves and our institutions.
See Rev. Karen's comments about JRUUC's involvement here – 9/21/22 "Minister's Musings"
See our current principles here.
---
Climate justice, reproductive rights, honoring treaties, resisting racism and other oppressions, all involve public policy, which involves voting. You may not be into politics, but it's surely all up in your face this year. Early voting by mail and in person is an option in Wisconsin. WUUSAN (Wisconsin Unitarian Universalist Action Network) invites every Wisconsin UU to engage voters within and beyond our own communities, in collaboration with community partners. Regardless of your time constraints, mobility, or tech skills, you are valuable and needed to help reach every potential voter. Check us out.
Wisconsin's Spring Election is April 4th – check out https://myvote.wi.gov/en-us/ for information about your polling place and what will be on your ballot.
---
Side with Love is a public advocacy campaign that seeks to harness love's power to stop oppression. It is sponsored by the Unitarian Universalist Association and all are welcome to join. Subscribe to get updates and learn more here.
---
---
2022 UUA Actions of Immediate Witness
At this year's General Assembly, our congregations reaffirmed a commitment to working toward justice. The delegates overwhelmingly adopted new Actions of Immediate Witness (AIW):
We Do Not Consent: Rejecting Legal Challenges to Abortion
Anti-Racism and Reparations via Restorative Justice