Reeb Rave 2022 – Nov. 12th
---
The Garden of Delights was Fruitful and Fun!
We raised over $8,300 and had 70 in-person participants enjoy a variety of wonderful food, entertainment and socializing at Saturday's "Reeb Rave" auction and dinner. And of course, in-person and remote participants bid generously on over 133 auction items.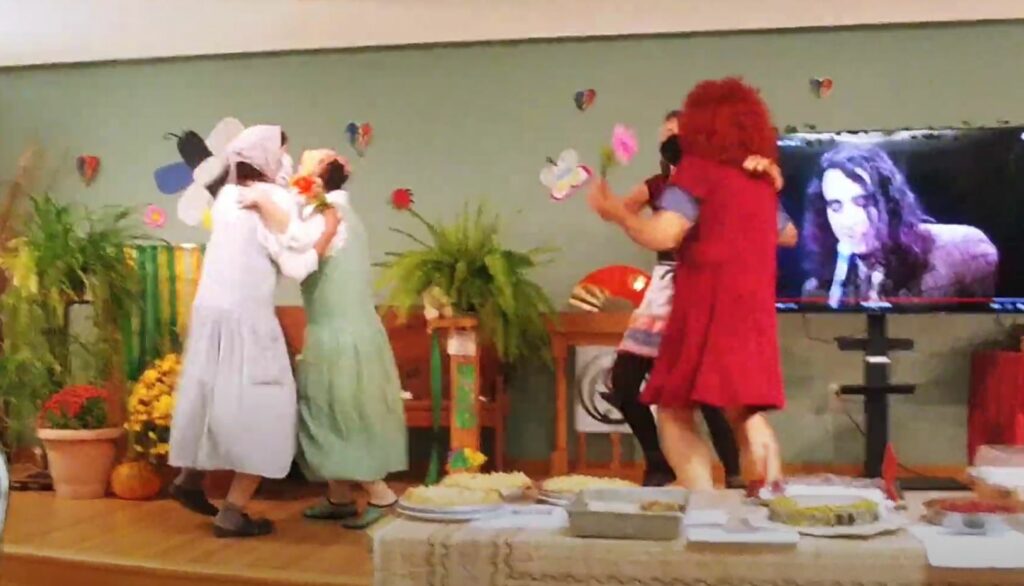 This was all possible because so many Reeb community members stepped up and donated their time and talent and auction items. We had over 35 people help with providing food, decorating, entertainment, childcare, auctioning, announcements and articles, AV, setup and clean up.
We still have items at Reeb that need to be picked up, sold and unsold. Check the spreadsheet that went out today with an email to see who bought what.
And please check your auction account to see if you have a balance due. You are encouraged to pay with a credit card, but you may also pay with a check. Make it out to JRUUC and put Reeb Rave in the memo line. Mail it to JRUUC, 2146 E Johnson St, Madison, WI 53704.
Thank you so much, it's been a pleasure to work with so many people on this project again.
Tom McClintock – 11/14/22
---
Saturday Nov. 12th – In person at Reeb 5:30-8:30 / Zoom 6-8:30
The Reeb Rave is on again for this year! This is one of our biggest annual events – a fundraiser auction where we share dinner, entertainment, treasures, and services.
This year's theme is: "Garden of Delights" – Costumes welcome! Dress up as animals, flowers or anything delightful, because we need some delight after the pandemic.
Invite your friends and family!
---
Online Auction
Online Bidding has begun and ends at 8pm Nov 12th.
Items are being added to our auction site on Auctria as they come in!
Visit the site now to view the catalog and to register to participate in online bidding, and to register for dinner if you are coming in person.

Click for auction catalog on Auctria
Please note that when you are viewing the catalog (with more than 100 items!) you can use the "Show Me" drop-down to filter and narrow your search by category, favorites, items you have bid on etc.
---
In Person Event 5:30-8:30 – Meal, Live Entertainment and Dessert Live Auction
Suggested donation for the in person event – $10 per person or $25 for a family and includes dinner and live entertainment.
Please click the "Dinner Registration" tab on Auctria if you are coming so we know how much food to have ready. Dinner will start at about 6:00 – see below for what is being offered…
Costumes related to "Garden of Delights" encouraged!
Masks required during the live event while not actively eating or drinking.
Child care will be available during the event
All bidding for the auction (except for dessert) will take place online – bring your devices, but please use cellular data instead of our WiFi so our signal for Zoom remains strong.
Physical auction items will be at the event and can be taken home that night.
---
Zoom Participation 6:00-8:30 – Streaming of Live Entertainment
---
Food at In-person event
Beef stew with potatoes/carrots/peas
Veggie chili
Meat chili,
Enchiladas
Pulled pork and buns
Corn chowder
Vegan bean soup,
Cornbread
Bread and butter (vegan and regular)
Gluten-free bread
Chips and hummus
Large salad, dairy (goat cheese) and nuts (pistachios),
Salad, with dressing and toppings on the side
Caesar salad
Fruit
Beverages
Klarbrunn soda
apple cider
coffee (regular and decaf)
Dessert live auction includes these lovely items
Cranberry tarte
3 fruit pies
Flourless chocolate cake (naturally gluten free)
Carrot cake
Pistachio-Rosewater Cake
Pumpkin dump cake
Chocolate Pudding Pie
Chocolate Chip Oatmeal Cake
---
How Can You Help?
We need your donations to make this fun and successful! We are at 60% of our donation goal as of 11/1/22 so please get your donations in by Wednesday November 9th. Use the form on this page to submit your donation's description.
Donations can be dropped off at Reeb Friday Nov. 11, 4-7 or Saturday Nov. 12 10-2
We also need help with decorating, Friday Nov. 11 and Saturday morning Nov. 12. Contact Kelly Kearns to help.
Help with setup or cleanup
The more people participate the more successful and fun this event will be! If you have any ideas, suggestions or questions please contact Tom McClintock.
---
Thanks!
---