Special Service this Saturday 12/17/122 – Winter Solstice Celebration 5pm – in person or on zoom
The JRUUC Sacred Breath Choir and Rev. Karen are delighted to offer this event in person for the first time since 2019! The evening is a deep ritual and celebration of the light that shines within and between us, with songs, reflections, silence, and candlelight. Please contact Rev. Karen if you're interested in or curious about being a reader for this special evening.
---
This Sunday 12/18/22 –
Wonderland – with Rev. Suzelle Lynch – Wonder is that feeling of spiritual deliciousness that rises up when we allow ourselves to stand in awe under a sky full of stars or in the presence of a baby taking her first steps, or when the swirling notes of birdsong or a great symphony tickle our ears. The winter holidays open a door to Wonderland each year – do we dare enter in?
Children and Youth – "Youth in Session"- our children and youth will have their multi-age class after the Time for All Ages today. Our new DRE, Genevieve, will lead the class with Jocie Luglio.
Donate to Share the Plate – Community Action Coalition of South Central of Wisconsin. The CAC is a nonprofit working to end poverty and help people live better lives.
Holiday Craft and Bake Sale before and after the service (see below)
---
Sign up here to receive our Weekly E-news in your inbox.
---
Coming Up at Reeb and in Our Communities…
---
Meditation Group Online – Wednesday Dec. 14th at 6:30 – Newcomers welcome
---
Music Notes
Shared music this week: "This Joy" by Shirley Caesar, sung here by the Resistance Revival Chorus
Join our guest minister, the Rev. Suzelle Lynch, and members of our Sacred Breath Choir in singing this and other beautiful a capella songs!
The Sacred Breath Choir is looking forward to seeing you at the Winter Solstice Celebration on Saturday at 5pm! There will be a full run-through with Rev. Karen on Thursday, Dec. 14th starting at 6:45 pm.
We have started the search for a new Music Director! Please share with your networks.
Click here for more music and choir information…
---
Celebration of Life for Friend Eric Lindblom Dec. 17th at Cress Center
Many of you were sad to hear of Eric's passing last week. I've learned that there will be a Celebration of Life Service on Saturday, December 17 at the Cress Center at 6021 University Avenue. Visitation will be at 10:30 am and the service will begin at 11:00 am, followed by a luncheon where his family members look forward to sharing and hearing stories. I'm planning on attending, and am happy to carpool with anyone who would like to.
You can find Eric's obituary here, and the site includes a link where you can share your memories. Eric's family has asked that memorials be made to the National Alliance on Mental Illness, National Public Radio, Journey Mental Health Center – Madison, and Yahara House.
I will miss Eric, and I know many of you will too. Please reach out to me if you'd like to talk about our loss.
In faith and love,
Karen
---
Holiday Craft and Bake Sale Sunday Dec. 18th
Dec. 18th before and after service you can shop for treasures and treats at our tables in the lobby. We will have hand made items including dishcloths, recycled t-shirt bags and bibs, and fabric bookmarks. We will also have a variety of cookies, candies and other baked goods. We would welcome your handmade items and/or baked goods. Remember to bring extra cash. You will want to satisfy your sweet tooth and do some last minute shopping. Contact Cindy Rudd if you have questions.
---
Porchlight Holiday Wish List & Just Dane Winter Clothing Drive – Through 12/18
For over a decade, JRUUC members supported Porchlight, a non-profit organization that provides services and shelter to Madison's homeless population, by preparing a monthly meal. COVID changed things and churches could no longer provide safe shelter or meals. But we can still help!
Let's fill a laundry basket or two with much needed items on the Porchlight Holiday Wish List. These are items you regularly shop for: cleaning supplies, household supplies, and typical hygiene items. Pick up a list from the foyer (or check the list here online) and add something to your shopping list. Drop off by Dec. 21st or earlier.
In addition, we will be helping Just Dane to collect warm hats, gloves, socks and long underwear for adults and children. These will be taken to the Just Dane office in time for the annual Longest Night Homeless Persons Memorial Service on Dec. 21.
And if you're looking for gifts to give, check out PorchlightProducts at porchlightinc.org .
---
Octavia's Parables Group on Zoom – Sunday Dec. 18th at 1:00
---
Journaling Group – Monday, Dec. 19th 7pm on Zoom
---
Carols and Coffee on Sunday, December 25 at 10:00 am
Instead of our regular Sunday worship, we'll have a shortened service and sing a few traditional Christmas songs together. Please bring a sweet treat to share for a festive coffee hour.
Events Calendar (click for complete calendar)
---
Courtesy Parking Reminder
Please leave the parking directly next to the building (across from El Sabor and Milio's) for those with mobility issues, small children, or things to carry into the building. Thanks!
---
Snow Lottery Season!
Here is the link to sign up for our "Snow Lottery" – Sign up for a week at a time and if it snows, clear our sidewalks with provided shovels and sand/salt. You "win" the lottery when it snows, if you like shoveling, or when it doesn't snow, if you would prefer not to shovel. Either way, we are grateful for your willingness to serve.
---
JRUUC Is Hiring…
We have several staff positions open. We're accepting applications for an Office Aministrator, a Music Director, and a Cleaner.
Per JRUUC policy, "employment with the church is not open to members of the congregation except in rare and unusual circumstances." The Board of Trustees has made an exception to this policy for the cleaner position, but members are not eligible to apply for any other positions. All posted positions are part time.
Please share this link with your networks! Applicants should send their resume with a cover letter to Rev. Karen.
Click here for job descriptions and to learn more…
---
Caring For Each Other
Jeanette Clawson writes: I am so grateful to work with the volunteers who make this network of support possible. Now that we are coming into the darkest time of the year it is more important than ever to take care of ourselves and each other. I want to remind you of our visits team if you are in the hospital or shut in at home. Karol and/or Jeanette can reach out to the members of our visits team and can be reached through the Caring Tree page on the James Reeb website.
---
Minister's Availability – Click the link for Karen's regular "office hours" Tuesdays & Fridays & by appointment.
---
Inspiration
Our December Theme: The Path of Wonder – Our December theme invites us to notice the things within, between, and around us that inspire a sense of wonder, and to make meaning out of it. In this space, you'll find a new invitation into reflection on our monthly theme every week.
Check-in question: What was your first experience of wonder?
Let me keep my mind on what matters,
which is my work,
which is mostly standing still and learning to be
astonished.
— Mary Oliver, from "Messenger"
Minister's Musings – As I prepare for the Winter Solstice and Christmas, I'm thinking about how this holiday season seems to have awakened the frenetic activity levels we engaged in before Covid, and how so many of us experienced a forced slowing down during the time of Covid-induced isolation… Read more
---
Small Group Ministry – See your weekly newsletter for Zoom links
Wednesday – Meditation Group 6:30-7 on zoom
Thursday – Sacred Breath Choir – meet 12/15 at

6:45

– Prep for Winter Solstice
Sunday – Octavia's Parables Discussion Group 1-2 (on zoom) – Next meeting is 12/19/22
Monday – Journaling Group – every other Monday, 7-8 on zoom or in person. Next meeting is 12/19
Click here for group descriptions
---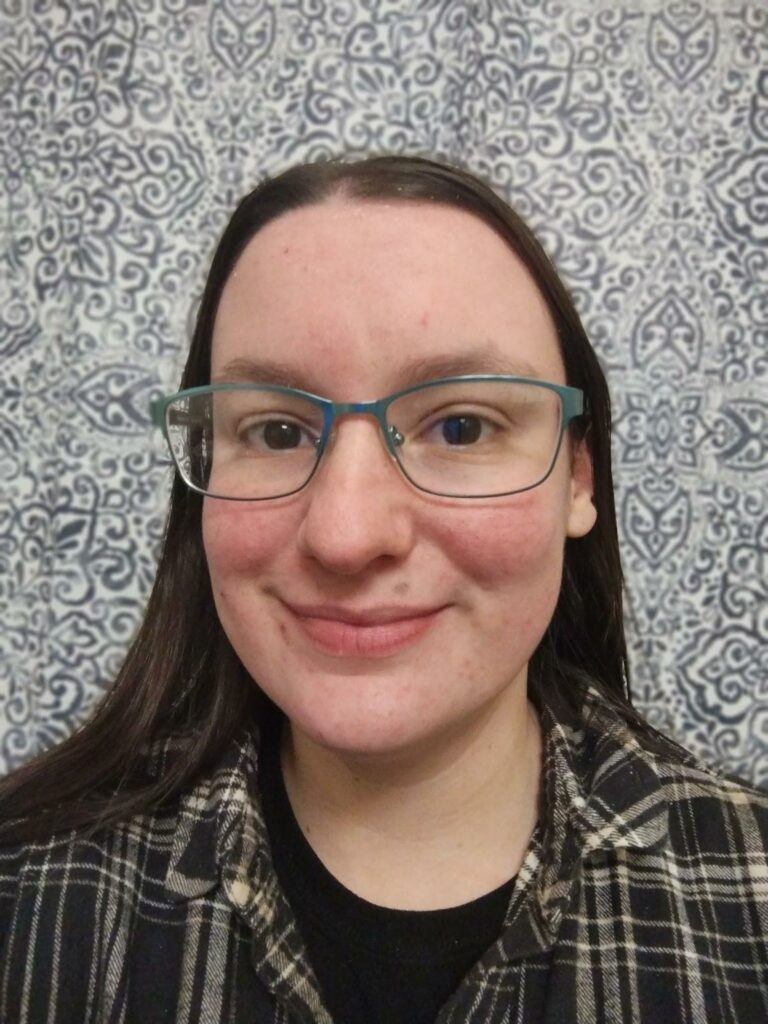 Welcome Genevieve, our new Director of Religious Education!
Click here to learn more about her and Religious Education & Family Ministry at Reeb!
---
NOTE: Deadline for Announcements is Tuesday at 10 p.m. Submit announcements for the website any time. Please send your announcement to office@jruuc.org and specify where you would like it listed by writing Sunday Announcement and/or Weekly and/or Website in the subject line of your email
---
8th Principle Team News
A Zoom discussion "Racial Justice at JRUUC" 1/22 4-6pm
A Book group – Sundays 1-3 2/12-4/2 "Me and White Supremacy"
Monthly Zoom discussions "Building Our Racial Awareness" 4th Sunday 4-6 beginning 2/26
Click for all the details and to sign up or ask questions!
---
Social Justice Update – click for details all in one place about the events below and more
Porchlight Wish List & Clothing Drive for Just Dane
8th Principle News
Longest Night 12/21
JRUUC Works for Justice! – Signup for emails and zoom links
Black History for a New Day
"I thought I understood and had learned about slavery, Jim Crow and segregation, but this course taught me, without any blame or guilt, how much I never knew about the history and lives of Black people around me, and how to get involved in improving the lives of our Black community and families in the Madison area." This course, will be offered from 7-9pm on Monday evenings from Feb. 6-April 17. For details, contact Leila Pine.
---
Membership Gatherings – click for details, invitation for new greeters
---
New President nominee
8th Principle Work at the national level
Revising the Principles and Purposes (Article 2)
UU the Vote
Side With Love – social action
UUA News
---
---
---